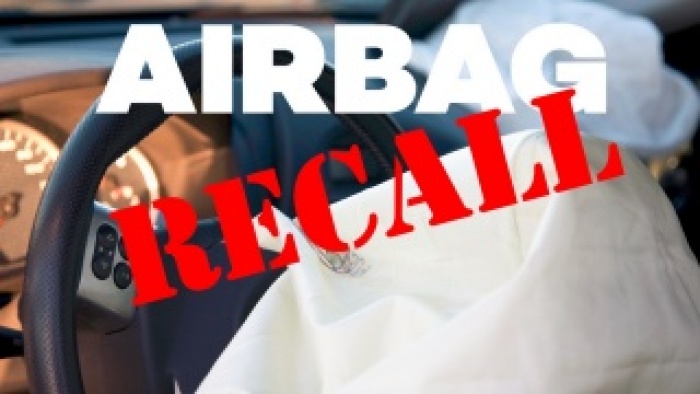 09:56PM / Monday, May 23, 2016 - Over the past two years, 113 million vehicles have been recalled by manufacturers. According to consumerreports.org, that's approximately one of every four cars on the road being recalled. This does not mean cars are any less safe than in the past; in fact, industry experts feel that cars are safer than ever before. It's just that detection systems are now extremely advanced and defects are picked up much more quickly and easily.
This should all be great news for the consumer, except … not all drivers are taking the recalls seriously. According to the National Highway Traffic Safety Administration (NHTSA) as many as 25 percent of car owners do not respond to a recall. You, the consumer must do your part by participating fully in recalls, which are always free safety fixes.
"If you receive a letter from your manufacturer, we strongly encourage you to respond immediately and schedule your repair promptly," said Sharon MacEachern, AVP, Operations Manager for Greylock Insurance.
MacEachern said that regardless if your car seems to be running fine or the repair seems minor, ignoring the recall could put you and your passengers in harm's way.
It's also tremendously important to understand from the manufacturer whether or not your vehicle is safe to drive until the repair is completed. In some cases, the risk of injury will be far too great and you will need to bring the car in immediately. This is exactly the case with one of the most widespread recalls to date: Takata Airbags.
As early as November 2014, the New York Times published a report claiming Takata was aware of dangerous defects with its airbags years before the company filed paperwork with federal regulators. Shortly thereafter recalls of vehicles with these airbags expanded to a national level. Since then, almost 30 million airbags have been recalled and it's estimated that another 35 million to 40 million Takata airbag inflators will be recalled and replaced through 2019.
However, as of May 2016, only about 8 million airbags have actually been replaced. This is a frighteningly low percentage, especially when you consider the potential ramifications for someone driving or riding in a car with unrepaired airbags.
"Please pay attention to this safety recall, and if it effects your vehicle, make an appointment with your dealership right away," MacEachern said. "This is a defect that can kill or seriously injure someone, and we don't want to see any of our Berkshire families having to suffer through that."
According to the NHTSA, the problem with Takata airbags is related to extended exposure to consistently high humidity and temperatures. There have been seven fatalities and more than 100 injured in some very traumatic incidents involving airbag ruptures. Manufacturers initially focused on regions prone to the warmer climates, but since vehicles travel over state borders, especially in the used car market, the recall encompasses the entire United States. In addition, a number of confirmed deaths have occurred in places outside the priority recall area.
The situation has been aggravated by replacement part shortages, creating repair delays that can extend several months. Also, all recall work will have to be performed at a franchised dealership; your independent mechanic cannot perform the work.
"We are telling any client who calls us about this recall to get themselves on the repair list now," MacEachern said. "Despite the annoyance, it truly is essential that any vehicle requiring an airbag part replacement not only remain out of use, but also remain registered and insured."
Even more worrisome is that some car owners may not be aware of this recall because the manufacturer has lost track of who owns the vehicle. If you have purchased a used car, particularly one that may have been sold several times, it's critical to pay attention to any and all recalls.
"Often times it's the youngest and most inexperienced driver in the family who is driving the oldest, and now potentially dangerous, vehicle," MacEachern said. "This is a confluence of alarming things and it's important to get all of the car facts, preferably before you even make a purchase."
MacEachern suggests you start your research, before you buy, with online resources like http://www.carfax.com that give you a vehicle's history. These reports contain important information about vehicle registration, frame/structural damage, accident indicators, service and repair information, and, of course, recall information. Knowing the facts first will help you make an educated decision about buying a used car, truck or SUV, and greatly reduce potential risks to drivers and passengers.
As we in the Berkshires and surrounding Massachusetts communities head into the heat of summer, the message is urgent for owners of vehicles affected: Act immediately on recall notices to replace defective Takata airbags! (See chart below for full details on all vehicle makes and years affected.)
Just because your car is on this list, it doesn't necessarily mean that you have defective airbags. What is for certain is that you should do everything you can to minimize the risk of injury to you and your passengers until parts are available and airbags replaced by:
* Carpooling with someone whose vehicle is not affected by the recall
* Utilizing public transportation
* Renting a car
* Borrowing a friend or relative's car not affected by the recall
Once you have talked to the dealer or manufacturer and have determined a course of action including the type of alternate transportation you will use, it's critical to contact your insurance agent. And while your primary vehicle is "out of use," whether it's at the dealer or parked at your home, do not cancel the vehicle registration or auto insurance no matter how long it sits waiting for repair.
MacEachern offers this explanation.
"If you remove coverage from your vehicle, then essentially you have no insurance, and you will not have protection for a rental car, a loaner car, or a borrowed vehicle," she said. "It's essential to talk with a knowledgeable insurance agent so we can help you understand the importance of maintaining your coverage throughout this process."
The Takata Airbag recall was just one out of 900 auto manufacturer recalls in 2015.
As your local Berkshire County insurance agent, Greylock Insurance is committed to helping keep all of our neighbors safe.
"Your well-being is of the upmost importance to us," MacEachern said. "So when we are alerted to an issue that may affect your health and welfare, we are going to do everything possible to make you aware of it."
However, there are a couple of easy ways for you to stay on top of recall repairs, yourself. Go to either your automaker's website or to NHTSA's site (safercar.gov) and enter in your vehicle identification number (VIN) located on your registration paperwork or your insurance card. You'll get immediate feedback on any pending recall work for your car. You can also sign up for recall alerts on the NHTSA site (http://www-odi.nhtsa.dot.gov/subscriptions/). These alerts actually go out even before recall letters are mailed by the manufacturers to the affected owners.
There can be devastating consequences to not responding to recalls. Your insurance agent should be a dependable resource for you and be a partner in ensuring your safety and that of your passengers. Greylock Insurance is your neighbor and our team is here to help you understand the recall issue, what action you need to take, and how your insurance policy offers protection throughout the repair process.
For more information, call 888-200-4445.
Vehicles Impacted by Takata Airbag Recall (Source: NHTSA)
Please note that the numbers cited for potentially affected vehicles below are subject to change and adjustment because there may be cases of vehicles being counted more than once. Owners should check their VIN periodically as manufacturers continue to add VINs to the database. Once owner recall notices are available, owners can retrieve a copy from SaferCar.gov, or will receive one by U.S. mail and are advised to carefully follow the enclosed instructions.
BMW: 627,615 total number of potentially affected vehicles
2000 – 2005 3 Series Sedan
2000 – 2006 3 Series Coupe
2000 – 2005 3 Series Sports Wagon
2000 – 2006 3 Series Convertible
2001 – 2006 M3 Coupe
2001 – 2006 M3 Convertible
Chrysler: 371,309 total number of potentially affected vehicles
2003 – 2008 Dodge Ram 1500
2005 – 2008 Dodge Ram 2500
2006 – 2008 Dodge Ram 3500
2006 – 2008 Dodge Ram 4500
2008 – Dodge Ram 5500
2005 – 2008 Dodge Durango
2005 – 2008 Dodge Dakota
2005 – 2008 Chrysler 300
2007 – 2008 Chrysler Aspen
Ford: 58,669 total number of potentially affected vehicles
2004 – Ranger
2005 – 2006 GT
2005 – 2007 Mustang
General Motors: undetermined total number of potentially affected vehicles
2003 – 2005 Pontiac Vibe
2005 – Saab 9-2X
Honda: 5,051,364 total number of potentially affected vehicles
2001 – 2007 Honda Accord)
2001 – 2002 Honda Accord
2001 – 2005 Honda Civic
2002 – 2006 Honda CR-V
2003 – 2011 Honda Element
2002 – 2004 Honda Odyssey
2003 – 2007 Honda Pilot
2006 – Honda Ridgeline
2003 – 2006 Acura MDX
2002 – 2003 Acura TL/CL
2005 – Acura RL
Mazda: 64,872 total number of potentially affected vehicles
2003 – 2007 Mazda6
2006 – 2007 MazdaSpeed6
2004 – 2008 Mazda RX-8
2004 – 2005 MPV
2004 – B-Series Truck
Mitsubishi: 11,985 total number of potentially affected vehicles
2004 – 2005 Lancer
2006 – 2007 Raider
Nissan: 694,626 total number of potentially affected vehicles
2001 – 2003 Nissan Maxima
2001 – 2004 Nissan Pathfinder
2002 – 2004 Nissan Sentra
2001 – 2004 Infiniti I30/I35
2002 – 2003 Infiniti QX4
2003 – 2005 Infiniti FX35/FX45
Subaru: 17,516 total number of potentially affected vehicles
2003 – 2005 Baja
2003 – 2005 Legacy
2003 – 2005 Outback
2004 – 2005 Impreza
Toyota: 877,000 total number of potentially affected vehicles
2002 – 2005 Lexus SC
2002 – 2005 Toyota Corolla
2003 – 2005 Toyota Corolla Matrix
2002 – 2005 Toyota Sequoia
2003 – 2005 Toyota Tundra